Who are we?
Apps Magnet is a startup based out of Mumbai, India. We are committed to developing applications and ideas that boost your productivity. Our vision is to build breakthrough products that will transform the way people work.
What do we do?
We build extensions / modules for activeCollab and Basecamp. Both are excellent web based collaboration / project management systems. Our extensions are aimed to make you more productive and save your time.
Why activeCollab?
activeCollab is a web based project management and collaboration system. It's ideal fit for organizations that want to manage their projects anytime – anywhere in a user friendly and secure manner. activeCollab is flexible, powerful and allows self hosting. It is one of the best out there!
We've used activeCollab ourselves from 2007 and started customizing it heavily to fit our needs in 2008. We felt our customizations can help other activeCollab users too, so started selling them in 2009.
Today, we develop the best selling and most loved activeCollab modules. We have 4000+ awesome customers. Our products save millions of dollars and thousands of hours for our customers every year.
What else do we do?
We also create Putler – an awesome business analysis tool for PayPal merchants.
We also provide solutions for WooCommerce and WPeC plugins for WordPress under StoreApps brand.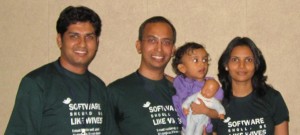 Who's on the team?
Nirav Mehta

Apps Magnet was founded by Nirav Mehta. He is well known for his entrepreneurial ventures, breakthrough ideas and his contribution to open source. Nirav believes in simplifying the most complicated ideas and presenting them in lucid ways. Here are some of the feathers in Nirav's cap!
Founder, Chairman and Chief Mentor of Magnet Technologies – a web / RIA solution provider based in Mumbai, India.

Author of two books

– Mobile Web Development & Choosing an Open Source CMS
Used to blog as Entrepreneur Geek at www.mehtanirav.com – now updated rarely.
Started Magnet when he was 18 years old and received many accolades for being a

young entrepreneur

.
Magnet was also India's first electronic magazine – back in 1998
Met Bill Gates when he was 17 – a national TV appearance achievement that time
Founder of Utkarsh – one of the

early Linux localization efforts

in India
Worked on 15+ product ideas in Magnet. Launched many. Many did not see the light of the day!
Led over 200 custom web development projects in Magnet personally
Malay Ladu
Malay is our "behind the curtain" magician, taking care of product development and customer support. He is passionate about solving problems and creating products that make a difference. Maths is his favorite subject – he was actually known as a math geek in school!
Nikita Mehta

Nikita owns the company, both literally and figuratively! She takes care of finance, accounts and legal work. And motivates Nirav (her husband) to keep innovating and pushing forward. She does not understand all the tech gobbledygook Nirav and Malay throw around, but she surely creates an environment where everyone thrives.
and the rest of the crew
Sandhya, Ravi, Nishit and Anish…