Practice Kanban with activeCollab. Use Tasks Plus module to print your tasks as Kanban cards and put them up on your Kanban board. Then get into flow!
activeCollab is a great web based project management and collaboration software. Apps Magnet makes extensions for activeCollab.
You can use Tasks Plus module for activeCollab 3 to print your tasks as Kanban cards. Go the Tasks tab in a project, select as many tasks as you want on the left, and click on Print Kanban Cards in top right toolbar. Your cards will be ready to print!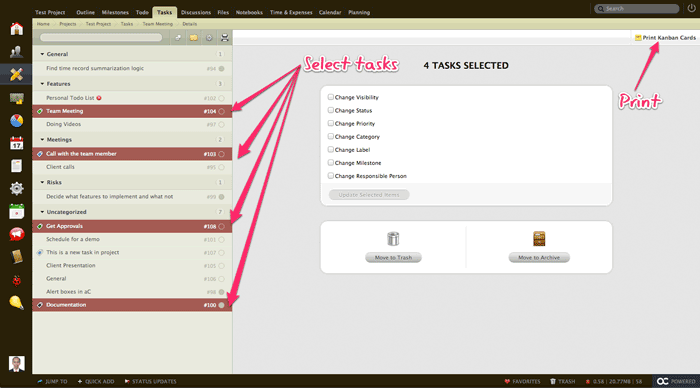 Cut the printed sheet along dotted lines and you get cards you can put up on your Kanban board.
Each card contains the task title, its assignees, project, milestone, the task ID, description, priority, estimate, start date and due date. You also have space on the card to add your own markings / labels.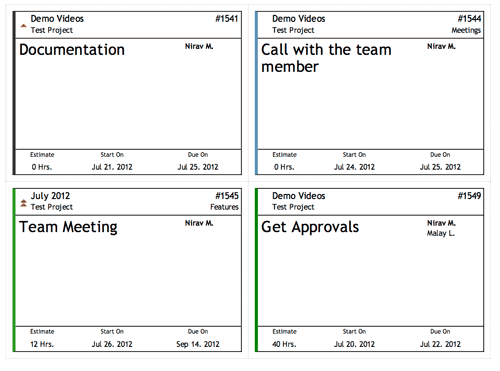 So why not a Kanban board within activeCollab?
We thought about adding a full drag and drop, Trello like Kanban board to activeCollab. (Yes, there are many Kanban board implementations out there, we personally like Trello a lot.) We haven't done this yet for a variety of reasons.
A lot of people use Kanban with physical boards. Physical white boards are intuitive and many people find them more appropriate than software
Different organizations use Kanban slightly differently – so sticking to one way of grouping task won't work for everyone
activeCollab team is considering adding Kanban like functionality too
Adding print feature would get a headstart to everyone using Kanban. We can always extend this based on user feedback!
What do you think?
New to Kanban?
Watch the videos above – Jimdo's introduction is an excellent quick start. While Jim Benson's talk on the Philosophy of Kanban talks covers: Why does kanban work so well? Why do teams intuitively take to it? Why do people's behaviors change around a visual control? Why does stress decrease? Why do people who currently could not work together suddenly collaborate? Jim Benson will discuss the psychology behind visual controls.
Here are some more helpful resources:
Tips & Tricks
Print the cards on different color sheets to distinguish them
If you have changed a task details, you can even print Kanban card for a single task – click the Print Kanban Card button next to the Print button in Task detail view
Use Workflow Statuses / Task Labels in your Kanban process and move cards along the process
Print Kanban cards for tasks across projects (you'll need to go to each project and print tasks for it). Then fill up your board to get an high level overview of progress
Share your experiences
Got another tip to share? As a matter of fact, if you are using Kanban with activeCollab, we would love to do a case study with you. Contact us and let us know how you use Kanban with activeCollab!