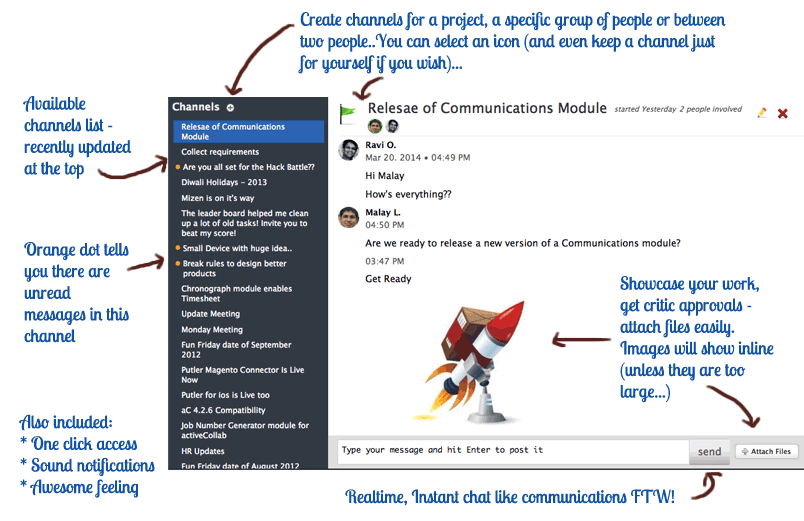 Chat, News & More
Communicate whatever you want to communicate, in whichever style you want to communicate. Use it for both formal and informal discussions. For projects or everyone.

Intuitive & Fast
Whether it is creating new communications, participating in a live chat, adding files or replying quickly, we have made everything super easy. This increases participation.

Gets things done
Communications module is gentle to the overloaded team. It will help you get things done without disturbing your team, on the contrary, they will enjoy it!
Use this first
We recommend using Communications even before you start a project / define its structure. It will get you productive right away by simplifying collaboration.
Features & Benefits
Communications Module for activeCollab solves multiple problems. You can use it as a formal announcement system or as an impromptu, informal communication channel. Use Communications module to get your team together. Use it for one way announcements, live project discussions or status updates.
Engage in Instant Live Chats with your team and clients
Post announcements, status updates, news items & more
Project specific communications: limit participants by project and see a project's communications from a tab within the project
Add files to communications, and see inline preview for images
Mark a channel with one of 27 built in icons
Limit who can participate by selecting participants for a channel
Intelligent notifications for new replies – both sound and window title changes
Email notification option when you create a channel to invite people to the live chat
Full localization / translation support
Ability to lock comments on any channel
Easy to share permanent link for each channel – so that people can keep coming back if needed
and above all Apps Magnet's solid code quality and outstanding customer service!
We promise your team will love this. It's even ideal for first time users like your clients!
Possible Uses
Brochure design discussion with your team and clients.
Announcing change in your company policies.
Appreciating your team openly.
Quick progress updates for your current project.
Get feedback on the venue for your next party.
Brainstorm on the next killer app idea.
And much more…
An outdated, yet useful video demo

(The video is three years old – from activeCollab 2 days. The UI design has changed a lot and some features too, but core benefits remain the same!)