Do you need to update a group of time records in activeCollab at once? Fear not. Time Reports Plus can do this in a jiffy!
Adjust Logged Hours on Multiple Time Records
Here's an example of how you can adjust logged hours for multiple time records at once. You can use the same method to do a whole lot more!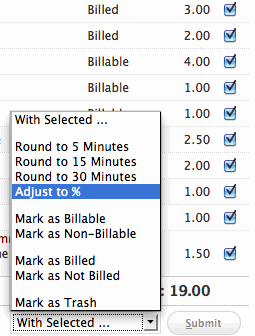 Load a report with Time Reports Plus
Ensure "Show Time Records" is ticked.
Check a few time records using check boxes to the right of each time record
Locate the Batch Edit drop down at the end of the time records list. Click and open it.
You will notice an "Adjust to %" option after "Round to 30 minutes" option.
Select that. You will get a prompt asking you the new percentage. 100% is default – which means leave things as they are.
If you put 120% here, all selected time records will be increased by 20%. If you put 80%, they will be reduced by 20%.
Enter the desired percentage amount, and Submit to apply the update.
The page will reload, and show you an update confirmation message at top.
Batch Update Actions Available in Time Reports Plus
Round up hours to 5, 15 or 30 minutes
Adjust to % – up or down
Mark as Billable / Non-Billable / Billed / Not Billed
Move to Trash