Hours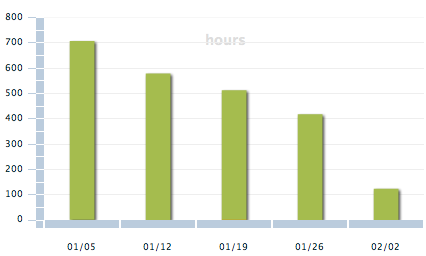 How many hours is your team spending on projects every week? Hours chart shows a bar chart of hours spent by all people on projects.
Put this to use!
As you may expect, this will give you a quick analysis if team is over-worked or under-worked. When you correlate the amount of hours worked with iteration or burndown chart, you can see what category of work could have taken time each week. A sudden fall in hours may indicate team reduction or vacation. A sudden rise may mean increase in team or overtime!
We have kept provision for estimated hours in the system, but you won't see any data for it now. It'll come in another module!