When you complete something you've been working on for 6 months, you will feel a deep sense of satisfaction (and relief). That's what I'm feeling now!
I wanted to revamp Apps Magnet's website for a while! I did an initial wishlist 18 months ago, and began actual work 6 months ago. The velocity improved in last two months and we finally completed the revamp yesterday.
What's in it for you?
So what's so special about the redesign?
Simpler, Easier My Account Area
All your downloads are easily accessible. You can even see when your support / upgrade license expires and can renew quickly. It looks prettier too! Logging into My Account also lets you comment on blog posts and leave product reviews easily.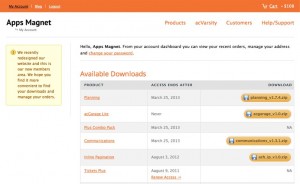 Organized Product Catalog and Smarter Shopping Cart System
The products list looks a lot cleaner now and you can easily find any product you were looking for. You can add items to your shopping cart without page reloads and the whole checkout experience is simplified. Product reviews and ratings help potential customers evaluate a product better. We have also enhanced product information pages.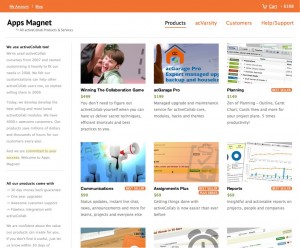 The shopping cart is accessible on any page, and facilitates quick checkout. The system will also allow us to use payment gateways other than PayPal in future.
Trainings, Tutorials and Videos get priority
We've moved acVarsity to the top navigation. You can access all our activeCollab related tutorials, videos and tips from there. This section already contains many useful resources, and we plan to keep adding to it in future.
Starting a Community
We have amazing customers and we believe it will be awesome if we shared their successes, and let them help each other. We have added product review feature to share your experiences with other activeCollab users. We will also be adding customer success stories (and potentially a forum) in future.
Cleaner, New Age, Mobile Friendly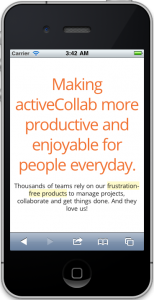 Our new site is responsive. It adapts to your device – big or small. The graphical redesign is simple and emphatic typography helps you scan through the content faster.
We have spent a great amount of time making small enhancements. And will continue to do so. Our goal is to have you achieve your goals faster!
What's Next?
Your Accounts Are Already Migrated!
All accounts from the old members area are already migrated to the new system. So go ahead and login to your account. Download your latest product updates and renew access to any products that have expired.
And Leave Us Some Product Reviews Please!
Our products have been around for long time, but since the review feature is new, we don't have many product reviews. If you've used our products, we request you to leave a few product reviews and ratings. That will help fellow activeCollab users decide if our products will fulfill their needs.
What Are We Using On The Backend?
What powers the new website?
WordPress – as the base platform
WooCommerce – for shopping cart and digital downloads
Propulsion theme – for responsive and clear layout
A custom made child theme – we've made lots of modifications to Propulsion and WooCommerce with our carefully crafted child theme
Custom made WooCommerce extensions – we've created plugins for WooCommerce to handle renewal pricing and chained products (for combo / bundle offers).
Zopim – for live chat customer support and realtime visitor analytics
WHMCS – for support tickets – we may build something that integrates either with activeCollab or WooCommerce in future
W3 Total Cache – for performance optimizations

And lots of care and attention!
Frankly, what took me the longest was deciding what platform to use. There are tons of shopping cart / membership solutions out there. We use WHMCS on Putler. We've been using DAP on Apps Magnet for two years. We are using E-Junkie on StoreApps and used it on Apps Magnet in the beginning.
I wanted something that offers shopping cart, billing management, helpdesk and knowledge base. WHMCS was closest. I even started customizing it and writing integration code for WordPress. Eventually we zeroed in on WooCommerce. It is open source, has solid codebase and is constantly improving. We had to build our own plugins for some core features – renewal pricing and bundle products. And we will build a few more in future. But being able to see the full source code and easily create customizations was a big plus.
And well… there are still lots of pieces we still need to add.
What do you think about the revamp?
Do you like it? What would you still like to improve? Got any questions / suggestions? Post a comment below and let me know!
Thanks! 😉