The verdict is in. Our next product will be called Communications Module.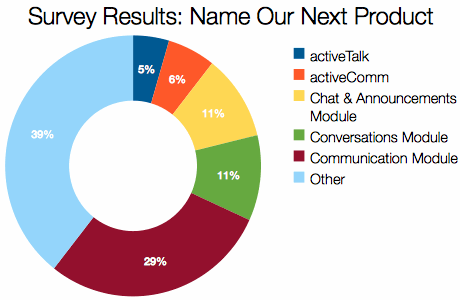 Communication Module led our survey with 29% respondents favoring it. About 50% people gave us new names, activeComm and activeTalk being suggested by more than a couple people. Here are some other suggestions we liked:
Bullhorn
Chatter
CollabConnect
Cowbell
Lingo
LiveWire
OmniComm
WaterCooler
Yap Module
We also had two people mention this will be a useless module!
Thank you for your suggestions
Thanks to all those 66 who took the survey. Special thanks to everyone who wrote to me with additional comments. It's always good to get your feedback – even if it's negative!
So, why did I select Communications Module as the name?
It is easy to understand
It gives a good sense of what the module could be about (though it's not specific)
It goes well with our other major module names – Planning / Reports.
A lot of you preferred it (or some variation of it)
I only made it plural – so instead of the original "Communication Module", it will now be "Communications Module"
When is it coming out?
About a week from now!
Keeping my fingers crossed and burning some midnight oils
I am looking forward to using this module myself. I know there is a lot of work pending to get it release ready, but we are working hard to get there.
Did the result surprise you? Got something to share? Post it in comments below!